University Opera Theatre
Current Season
Spring 2014
Leoš Janáček's
The Cunning Little Vixen (The Adventures of Vixen Sharp Ears)
Composed by Leoš Janáček
Libretto adapted from a novella by Rudolf Těsnohlídek and Stanislav Lolek
David Walsh, director
Mark Russell Smith, conductor
Thursday, April 10 at 7:30 pm
Friday, April 11 at 7:30 pm
Saturday, April 12 at 7:30 pm
Sunday, April 13 at 1:30 pm
Ted Mann Concert Hall
Premiered in Brno in 1924, The Cunning Little Vixen (actual translation: Vixen Sharp-Ears) was inspired by cartoons Janáček had seen in a local newspaper. Janáček wrote the libretto himself, utilizing ideas from the novella that Tesnohlidek had written to accompany the cartoons, as well as texts from folk songs with which the composer was familiar. Janáček was an incredibly economical artist, seldom repeating themes over a piece which lasts barely ninety minutes! The work is really a dance-opera which incorporates and integrates themes of nature, the life cycle, and the mystical spiritual side of life in music of exquisite enchantment. A rare opportunity to experience an opera that is truly accessible to all ages!
TICKETING:
Buy tickets online
Box office: 612-624-2345
In person: Rarig Center Ticket Office, 330 21st Ave South, Minneapolis, MN 55455; Hours: 3 pm- 5 pm, Mon-Fri
Adults: $20; Students and Children: $5
2-for-1 tickets for U of M faculty, alumni, retirees, and staff.
Pre-opera lobby discussions begin 45 minutes before each performance.
---
Fall 2013
Bedřich Smetana's
The Bartered Bride
Libretto by Karel Sabina
Paul Csonka and Ariane Theslof, translation
David Walsh, director
Sergey Bogza, Erik Rohde, and Benjamin Klemme, conductors
Thursday, November 21 at 7:30 pm
Friday, November 22 at 7:30 pm
Saturday, November 23 at 7:30 pm
Sunday, November 24 at 1:30 pm
Ted Mann Concert Hall
---

University Opera Theatre's Parables On TPT
Watch University Opera Theatre's production of Robert Aldridge and Herschel Garfein's Parables, directed by University Opera Theatre's David Walsh, on Twin Cities Public Television's website. Watch now. Parables on Twin Cities Public Television is a Minnesota partnership production and is a coproduction of the University of Minnesota School of Music and Twin Cities Public Television with additional funding from Douglas and Andrew Reeves in honor of their parents, J.B. and Julie Reeves.
Opera Workshop
The Opera Theatre presents one fully staged operatic production each semester. For more than 30 years under the direction of Professor Vern Sutton, this ensemble has won notable prizes and has produced singers who now perform on major stages across the U.S. and Europe. The Opera Theatre provides students with the opportunity to be involved in all aspects of fully staged opera productions. Admission is by audition only.
About the Director
David Walsh, associate professor of opera, is the director of University Opera Theatre. After graduating in political science and economics, he studied theatre science at the University of Toronto. His career has taken him to such opera houses as the Paris Opera (Fidelio: Ozawa, Behrens, Vickers), the Royal Opera House, London, and the Netherlands Opera, Amsterdam. He has been a resident stage director with Scottish Opera, Frankfurt Opera, and Deutsche Oper am Rhein in Düsseldorf. Walsh has directed opera in North America, Europe, China, Japan and Israel. With a professional career spanning more than twenty-five years and two continents, Walsh has successfully combined the artistic flair expected of a director and teacher with the organizational and management abilities required of an administrator.
Past Opera Theatre Seasons
Spring 2013: Benjamin Britten's A Midsummer Nights Dream
Fall 2012: Giuseppe Verdi's Falstaff

Spring 2012: Robert Aldridge's Parables
Fall 2011: W.A. Mozart's Così fan tutte
Spring 2011: Johann Strauss's Die Fledermaus
Fall 2010: Robert Aldridge's Elmer Gantry
Spring 2010: W.A. Mozart's Die Zauberflöte
Fall 2009: Stravinsky in Paris: Le Renard (The Fox), Mavra, and Le Rossignol
Spring 2009: Leoš Janáček's Jenůfa
Fal 2008: Benjamin Britten's Rape of Lucretia
Spring 2008: Claudio Monteverdi's The Coronation of Poppea
Fall 2007: Kurt Weill's The Seven Deadly Sins and Giacomo Puccini's Suor Angelica
Spring 2007: Kurt Weill's Street Scene
Fall 2006: W. A. Mozart's Le nozze di Figaro
Spring 2006: Giacomo Puccini's La Bohéme
Fall 2005: Benjamin Britten's The Turn of the Screw
Spring 2005: W.A. Mozart's Don Giovanni
Fall 2004: Francis Poulenc's La Voix Humaine and Giacomo Puccini's Gianni Schicchi
Spring 2004: Jacques Offenbach's The Tales of Hoffman
Fall 2003: Benjamin Britten's Albert Herring
Spring 2003: Conrad Susa's The Dangerous Liaisons
Fall 2002: Richard Strauss's Ariadne auf Naxos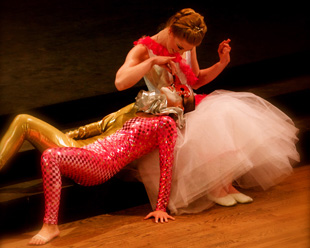 Connect With Us
Subscribe to our newsletter
Related Links
Competitions