Events
Please visit events.umn.edu for School of Music event information.
Programs and Festivals
Sally O'Reilly, director
Summer String and Piano Institute: Advanced studies for the serious string player and pianist.
June 14 – July 11, 2015
Contact: Sally O'Reilly at oreil004@umn.edu or 612-624-0846
Immanuel Davis, director
A five-day seminar for flutists of all ages and levels who want to develop all aspects of their playing and musicianship.
July 13 – 17, 2015
Contact: Immanuel Davis at davis210@umn.edu or 612-624-0582
Matthew Mehaffey, conductor
July 6 – August 1, 2015
Contact: oratorio_soc_mn@yahoo.com or 612-624-1511
Co-sponsored by the Oratorio Society of Minnesota and the University of Minnesota School of Music.
Wendy Zaro-Mullins, director
Coming in Summer 2016!
Contact: Wendy Zaro-Mullins at zarox001@umn.edu or 612-625-3386
A unique collaboration with the Mill City Summer Opera.
Mark Russell Smith, Artistic Advisor
Brian Dowdy, conductor
Chad Hutchinson, conductor
July 28 – August 13, 2015
Contact: Chad Hutchinson at hutch373@umn.edu
David Walsh, artistic director
Summer music theatre experience for ages 14 to 19..
August 3 – 15, 2015
Contact: David Walsh at walsh057@umn.edu
Carla Mantel, coordinator
Dates to be announced
School of Music students perform in a showcase of music during the Minnesota
Fringe Festival.
Contact: Carla Mantel at cmantel@umn.edu
The U of M School of Music will not be offering a wind band symposium during the summer of 2015. We do have plans for an exciting new focus for young professionals and mentorships during the summer of 2016. Please check this website early next year for details.
Dean Sorenson, Festival Director
Date to be announced
Non-competitive educational jazz festival.
Contact: ensemble@umn.edu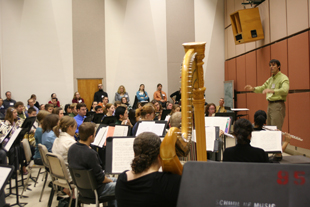 Connect With Us
Subscribe to our newsletter
Upcoming Events
Please visit events.umn.edu for School of Music event information.