Marvin O. Mechelke II Piano Award
The Mechelke Scholarship Competition is open to undergraduate piano majors in odd-numbered years (2015) and graduate piano students in even-numbered years (2016). The next competition will take place in the Mechelke home on Friday, April 24, 2015. Download the Application Form.
Eligibility
The 2015 competition is open to any talented full-time undergraduate piano majors in the School of Music (B.M.). All applicants must be in accordance with the University of Minnesota's policies for full-time enrollment, be in good academic standing, and have a GPA of at least 3.0.

In the event that there are more than five (5) applicants, a three-person panel of judges (independent of the keyboard division) will select five finalists from the entire field in a preliminary audition to be held in Ultan Recital Hall on Monday, April 20, 2015 at 7 pm. In the preliminary audition, each applicant will be required, by judges' choice, to play excerpts totaling up to ten minutes of his/her entire program, including winner's encore (see below).
Repertoire
Competitors must choose a program consisting of at least two contrasting works with a total playing time of 15 minutes. A second piano will be available for duo or concerto repertoire. Selections should be complete works or movements, not excerpts. Cuts are not allowed, but repeats may be omitted. Competitors should be prepared to make brief introductory remarks about their repertoire in the final round.
Winner's Encore
After the final round judges have announced their decision, the winner shall perform, as an encore program, one or more additional selections totaling 10 minutes in length, again with brief introductory remarks about the music.
Award
The winner will receive a scholarship prize of $1,500, to be used as needed to further his/her musical education at the University of Minnesota. At the discretion of the judges and with approval of the Mechelkes, an additional scholarship prize of $500 may be awarded to a second-place winner. (Second-place winners may compete a second time, but those who have won two second-place prizes are no longer eligible to compete.)
Judges
The panel of judges for the preliminary and final rounds shall each consist of three individuals selected by the School of Music: an active School of Music faculty member not from the keyboard division, and two persons chosen from the local music community. The decision of the judges is final.

Application forms should be submitted to Alexander Braginsky by Tuesday, March 31, 2015 and repertoire information should be submitted by Friday, April 10, 2015.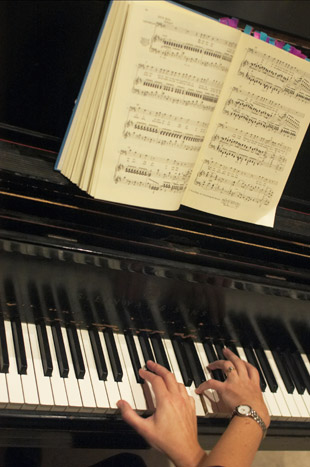 Connect With Us
Subscribe to our newsletter
SCHOOL OF MUSIC NEWS